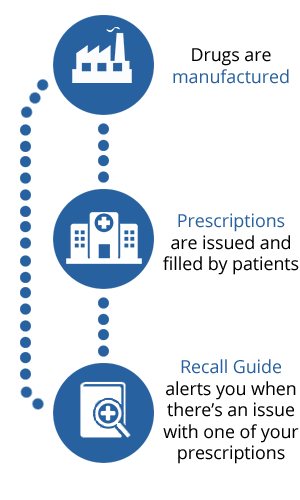 Drugs that are FDA approved and were heavily prescribed are sometimes recalled when it is discovered that the drug was responsible for dangerous side effects. If you have taken any medication in the past, you can get updates and access to critical information about conditions associated with that medication. Best of all, access to our Recall Guide is free, it is easy to register, and you can not only get the information you need, your voice can be heard. You are important to us. Your experiences in taking any medical drug can be shared so that others in our community are informed.
The FDA approval process is lengthy, but the system is flawed. For example, there is no way to test the long term effects of a specific medication. Many of the drugs that are recalled have dangerous side effects with long term use that were not identified until the medication was on the market and prescribed for years. Once a medication is determined to have these side effects, the FDA will issue a warning or recall the drug. We gather information about updated drug warnings and recalls to share with our community.
You may have been prescribed a drug in the past and now have an illness or condition that is associated with the use of that medication. You need to know whether your specific condition is a result of taking any drug in the past, and through registering with Recall Guide, you can get the access to the data you need.
Take advantage of our free service. Our mission is to inform and share information and help our community to stay healthy and stay informed.
RecallGuide.org is a project of Consultwebs.com, an online consulting company that works with firms across the nation to ensure pharmaceutical products are safe for patients and consumers. For more information, please see www.Consultwebs.com.
Community Outreach Team
Matt Rohney joined the community outreach team to bring awareness to people about the medicine they're taking. Since Matt has joined, he has become an avid liaison for Recall Guide as he strives to educate and inform people whose lives have been affected by recalled medicines. In his spare time, Matt likes to sing and write music.
Parker Navarro is on the community outreach team for Recall Guide. She became interested in Recall Guide because she finds strong value in people knowing all information regarding their medicine. She currently studies communication studies at her university and enjoys running.
Shelby Wilt is a member of the community outreach team for Recall Guide. She joined in April of 2015 to help spread awareness of the program. As a common caregiver of her Grandmother, she understands the importance of keeping track of the many medications and the influence they have on the health of loved ones. Her aim as an advocate is to increase the awareness of this beneficial website for potential users. In her free time she enjoys running and playing lacrosse.
Luci Keefer joined the community outreach team for Recall Guide in hopes of educating the public about the potential hazards of the drugs they are ingesting. She strongly believes that the key to living a healthful life is understanding exactly what we are putting into our bodies. Luci is currently working toward degrees in both Communication Studies and Professional Writing. In her free time she enjoys running, reading and volunteering.