Xarelto (rivaroxaban)
Xarelto® is a blood thinner typically prescribed to prevent blood clots in patients after a hip replacement or knee replacement surgery. It is also used to treat patients who are at risk of stroke due to atrial fibrillation, high blood pressure, or diabetes. While benefits include a once-daily standard dosage, the drug has also been criticized for its expensive price and lack of any antidote, leading to hundreds of claims of uncontrollable internal bleeding and death. Although it is one of the newest anti-clotting medications on the market, Xarelto is already one of the highest-profile subjects of mass tort lawsuits in the United States.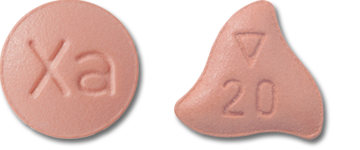 Identified by the "Xa" marking, Xarelto is available in 10mg, 15mg, and 20mg tablets.
---
Clinical Data
Generic: Rivaroxaban
Manufacturer: Bayer AG (marketed by Janssen Pharmaceuticals in the United States)
FDA Approved: July 1, 2011
Legal Status: Prescription only
Pregnancy Status: C (risk not ruled out)
Routes of administration: Oral
Method: 10mg, 15mg, 20mg (tablets)
Synonym: Xarelto, BAY 59-7939
Uses: Prophylaxis of deep vein thrombosis (DVT), pulmonary embolism (PE) (2011); Stroke prevention for patients with non-valvular atrial fibrillation (2011); Venous thromboembolism (2012).
Recall Status & Safety Information: View status
---
Side Effects & Complaints
Unlike Warfarin (Coumadin), Xarelto does not require regular monitoring (prothrombin time test) for blood clotting and has no dietary restrictions as it does not interact with vitamin K. Patients are prescribed standardized doses of 10mg, 15mg, or 20mg that are taken once daily, making this new alternative a bit more convenient than its "predecessor". The downside, however, is that like the other new-age direct Xa inhibitor anticoagulants, Xarelto has no antidote to stop bleeding. This has led to serious complications in patients undergoing hip and knee surgery and uncontrollable bleeding has been the primary criticism of the drug.
Update: AndexXa is currently being considered by the FDA as a potential antidote to Factor Xa inhibitors such as Xarelto. In August 2016, however, the FDA failed to approve the medication citing a need for more data and requested that Portola, the drug's manufacturer, provide more information regarding manufacturing, among other issues. Portola is also awaiting FDA approval for its own anticoagulant medication, betrixaban.
Xarelto Adverse Event Reports: 2015-2016
In the past year, there have been hundreds of Adverse Events Reports filed with the FDA citing Xarelto as the primary issue. There have been as many as 335 Xarelto-related adverse events reported in a single day (February 14, 2016), not counting events not reported to FDA (see chart below).
In March 2016 alone, there were over 500 Xarelto incidents reported in the United States. According to the FDA's Medwatcher reporting system, these reports include serious drug side effects, product use errors, quality problems, and therapeutic failures.
More Xarelto side effects information →
---
Lawsuits & Injuries
By 2014, so many claims had been filed against the makers and marketers of Xarelto, that a number of the lawsuits had been consolidated into multidistrict litigation (MDL). In December, 2014, the U.S. Judicial Panel on Multidistrict Litigation ordered the MDL be transferred to the Eastern District of Louisiana to be heard by Judge Eldon E. Fallon.
The 40 cases are similar in that they all claim Bayer and Janssen Pharmaceuticals failed to adequately warn patients that Xarelto could increase the risk of certain types of bleeding. Litigants hope that the proceedings in these bellwether cases – set to be heard sometime in 2017 – function as a barometer of what to expect in the remaining Xarelto lawsuits, which is estimated in the several thousands. Defenants Bayer, Janssen Pharmaceuticals, plaintiffs, and all other parties involved will be watching closely. Nearly 1,000 additional Xarelto claims are currently on the docket in Philadelphia's Complex Litigation Center.
---
Similar Medications
Heparin
Pradaxa
Warfarin (Coumadin)
---
Xarelto Images
---