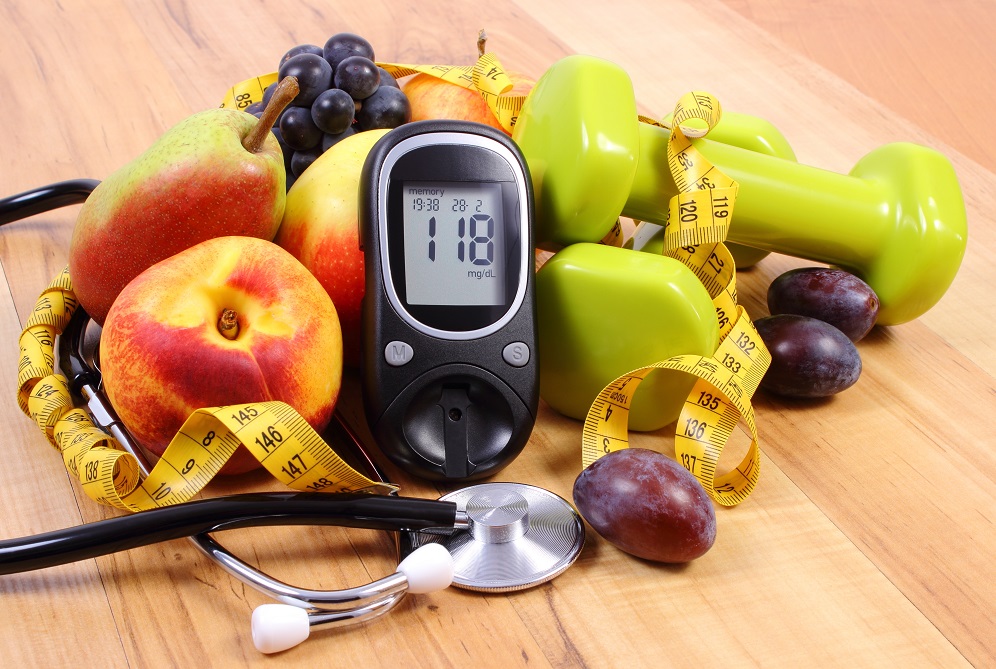 If you have recently been diagnosed with Type 2 Diabetes you may still be in a state of shock. Just hearing the words from your doctor's mouth probably caused your stomach to drop. You may be wondering why this happened to you or what you could have done to prevent it. You may be worried about how it will impact your lifestyle and everyday activities with your family and loved ones and have anger, guilt, sadness, and a myriad of other emotions swirling around in your head making it difficult for you to think clearly.
The truth is that you are right to feel concern and anxiety. Type 2 Diabetes can cause complications and problems if not managed carefully. The good news is that there are more resources available than ever to help you keep your condition in check so that it doesn't stop you from living the life you desire. Here are a few ways that you can start to gain a sense of control and empowerment as you navigate your diagnosis.
1) Accept that you will have to work at managing your condition
When you are first diagnosed with Type 2 Diabetes you may feel overwhelmed, scared, or angry. As Emory University School of Medicine endocrinologist Lawrence Phillips, MD, explained in an article for WebMD, "It can be overwhelming at first… diabetes is a new world for most people. They are uncertain what the future holds for their health".
It is normal to experience a wide variety of emotions when you are diagnosed with any medical condition that will require modifying your lifestyle – so it is important to take the time to understand and work through your feelings. This can help you accept the reality of your situation and design a positive and proactive plan to keep yourself as healthy and happy as possible. If you are experiencing negative emotions after your diagnosis or find yourself in a state of denial it can be hard to take the necessary steps needed to make the best choices for yourself and your loved ones while maintaining your health.
2) Learn your ABCs
No, we are not taking a trip back to preschool. The ABCs of diabetes are a simple way for you to keep up with indicators of how well you are doing at managing your condition. What do these letters stand for?
A stands for A1C
When a doctor performs an A1C test he or she is determining your average blood glucose level based on readings from previous months. This can help you see the big picture of whether or not your lifestyle changes and medications are creating the results that you desire. A1C is also sometimes referred to as "average glucose" or "eAG".
B stands for blood pressure
High blood pressure can indicate that you are more at risk for several of the complications that can occur with diabetes – including stroke. The good news is that following the rest of the tips in this article will help you keep and maintain healthy blood pressure. In addition to eating a healthy diet and getting exercise it is also important to avoid smoking and limit alcohol and sodium intake if you are working on lowering you blood pressure.
C stands for cholesterol
The presence of certain types of fat in your blood – including LDL cholesterol – can indicate that you are at a higher risk for a heart attack or stroke. Maintaining a healthy diet and getting regular exercise can help lower cholesterol. This will further minimize the risk of complications related to your condition.
If you get regular checkups that cover the ABCs of diabetes you can catch problems before they morph into something more serious. Get tested for these things regularly and adjust your lifestyle and medications according to your results. Don't let a stroke or heart attack be the first sign that there is a problem.
3) Understand your medications
Along with optimizing your lifestyle you should also make sure that you understand the pharmaceutical side of managing your diabetes. While those with Type 2 Diabetes can sometimes manage their condition with lifestyle changes alone they will often be prescribed insulin and/or oral medications to help meet target glucose levels.
If your doctor prescribes insulin, oral drugs, or both, it is up to you to make sure that you understand your medications and how to use and take them correctly.
If you are taking insulin you need to make sure that you have a consistent routine. You also need to keep all of your insulin-administration supplies sanitized and in an easy to access space. It can be helpful to set an alarm on your phone or other device to remind you to administer your treatment at the correct time.
If you are taking oral medications make sure that you talk to your pharmacist about when you should take each one and about any possible side effects that can occur. Often, doctors will have you try oral drugs before resorting to insulin. There are more options available than ever to make living with Type 2 Diabetes easier, so let your doctor know if a particular option is not working for you.
The key here is to take personal responsibility for managing your condition. Don't wait for your doctor to prod you. Do your research and seek out helpful information.
4) Optimize your diet
Having a healthy diet is a critical part of managing Type 2 Diabetes. Despite how well known this tip is – many people have less than optimal diets which can lead to further complications. Figuring out what foods best manage your condition and finding time to follow your meal plan can be challenging. Here are a few tips to help you along the way:
Focus on fiber
According to many recent studies, simply increasing the fiber in your diet over a perdio of 12 weeks or less may help lower blood glucose. How much fiber should you be getting? The recommendation is 21 to 38 grams per day. Unfortunately, most Americans simply don't get enough. You can fix this by making simple changes to your diet. Swap out that white bread for a fiber-rich whole grain option. Trade in your sugary breakfast cereal for a hearty bowl of oatmeal. Add more fresh fruits and vegetables. Along with its many other health benefits, fresh produce has plenty of fiber and can help you meet your daily recommendation in no time.
Load up on low-glycemic options
There is a lot of fancy terminology around the glycemic index (GI) but it does not have to be overly complicated. Simply put, the glycemic index is a measure of how much a food that contains carbohydrates will raise your blood glucose. The higher the GI of a food the more it will raise your blood glucose. The trick is to create a diet that is primarily made up of foods that have a low or medium GI. These include beans, legumes, whole wheat bread, steel cut oatmeal, barley, many fruits, and most vegetables. Medium GI foods include items such as brown rice, quick oats, and some fruits. High GI foods include white bread, pretzels, and many popular cereals, crackers, bakery items, and other processed foods. A great strategy is to stock your home with low and medium glycemic foods that you enjoy eating – you will feel less tempted to consume too many high GI foods and you will not feel as deprived.
Eat at the same times each day
This can help you to keep your blood sugar more stable, feel calmer and more energized, and prevent dramatic fluctuations.
The key to creating the right diet to manage your diabetes is to simply have a plan. Talk to your doctor and read up on what foods are best for achieving your health goals. Make sure that you are eating with purpose instead of just eating whatever happens to be around you on any given day.
5) Get active
Adding consistent physical activity into your life is another one of those obvious steps that people often understand but do not implement when dealing with Type 2 Diabetes. It is important to break past any mental barriers you have around exercise and find an activity that you personally enjoy. Hate the gym and dread running? Many people find that dancing, hiking, kayaking, and other fun activities are easier to participate in regularly than a strict routine.
Why? Countless studies have shown that regular physical activity is one of the best tools you have. Getting at least 30 minutes of aerobic exercise at least five times per week has been shown to lower A1C in those with diabetes anywhere from an average of 0.3 to 0.6 percentage points.
6) Check your BMI
Maintaining a BMI in the healthy range can help to stabilize your blood sugar long-term. This means that if you are above your healthy BMI range you can help prevent future complications related to your diabetes by losing a few pounds. It is best to avoid any sort of fad diets – as these could actually exacerbate your symptoms. Instead, follow the tips above and don't be afraid to talk to your doctor about creating a tailored diet and fitness plan for your situation.
7) Create a support system
It is never easy to deal with a difficult, life-changing diagnoses. It is also hard to make positive life changes when you have negative people around. This is why it is important for you to find a support system.
Talk to your family and friends first
Express to them that you are trying to manage your condition so that you can live a full and healthy life and be able to be there for them. Communicate that you will need their support and explain what this will look like for you.
Use online resources to stay informed and motivated
There are tons of blogs, websites, and other tools that can help you gain the knowledge you need to navigate your diagnosis and help you to make appropriate changes. You can also consider participating in social online activities. For example, you could join a support group on Facebook or sign up for a forum on a health-related website. These tools can help you connect with people who are facing the same challenges.
Consider social exercise
Finding a group activity that you enjoy can make exercise something you look forward to – rather than something you dread. Take up dancing, hiking, yoga, rock climbing, or any activity you find enjoyable and find people to do it with you.
Don't be afraid to set boundaries
We have all been there – your coworker nags you about eating a cupcake, your grandmother wants you to eat another slice of the delicious banana bread she baked just for you. While people may have the best of intentions it is important for you to deal with them in a firm, but calm manner. Let them know that while you appreciate them, you have to focus on keeping yourself healthy and you need their support to do this. Avoid situations with people that will try to tempt you away from whatever lifestyle changes you are trying to implement. Always remember: your health comes first.
These are just a few of the things that are important to consider as you begin to learn to take control of your Type 2 Diabetes. The most important thing to remember is that you are an individual and it is imperative that you think about what will be most helpful to you as you craft a plan to manage this condition and take control of your own well-being. As always, it is also a great idea to include your doctor or other healthcare professional in the planning process. Most care providers have likely dealt with the same condition countless times – they can help make the process safer and simpler.
---
Sources
http://www.hopkinsmedicine.org/health/healthy_aging/healthy_body/managing-diabetes-six-healthy-steps-with-the-most-benefit
http://www.diabetes.org/food-and-fitness/food/what-can-i-eat/understanding-carbohydrates/glycemic-index-and-diabetes.html?referrer=https://www.google.com/
http://www.webmd.com/diabetes/features/type-2-diabetes-coping-with-new
http://www.webmd.com/diabetes/features/type-2-diabetes-coping-with-news
http://www.diabetes.org/living-with-diabetes/complications/heart-disease/healthy-abcs.html
http://www.hopkinsmedicine.org/health/healthy_aging/healthy_body/managing-diabetes-six-healthy-steps-with-the-most-benefit
http://www.diabetes.org/food-and-fitness/fitness/get-started-safely/blood-glucose-control-and-exercise.html
http://www.hopkinsmedicine.org/health/healthy_aging/healthy_body/managing-diabetes-six-healthy-steps-with-the-most-benefit