Pfizer Us Pharmaceutical Group
| | |
| --- | --- |
| Product Description: | Effexor XR (venlafaxine HCl) Extended-Release Capsules, 150 mg, packaged in a) 30-count Unit of Use bottles (NDC 0008-0836-21) UPC 3 0008-0836-21 7; b) 90-count Unit of Use bottles (NDC 0008-0836-22) UPC 3 0008-0836-22 4; Rx only, Distributed by Wyeth Pharmaceuticals Inc., A subsidiary of Pfizer Inc., Philadelphia, PA 19101. |
| Status: | Ongoing |
| City: | New York |
| State: | NY |
| Country: | US |
| Voluntary/Mandated: | Voluntary: Firm Initiated |
| Initial Firm Notification: | Two or more of the following: Email, Fax, Letter, Press Release, Telephone, Visit |
| Distribution Pattern: | Nationwide and Puerto Rico |
| Classification: | Class I |
| Product Quantity: | 49,847 bottles |
| Reason For Recall: | Presence of Foreign Tablets/Capsules: A Pharmacist reported that a bottle of Effexor XR 150 mg capsules contained a single peach colored capsule printed TKN250 which was identified as a Tikosyn (dofetilide) capsule. |
| Recall Initiation Date: | 20140306 |
| Report Date: | 20140528 |
Pfizer Us Pharmaceutical Group
| | |
| --- | --- |
| Product Description: | Effexor XR (venlafaxine HCl) Extended-Release Capsules, 150 mg, packaged in a) 30-count Unit of Use bottles (NDC 0008-0836-21) UPC 3 0008-0836-21 7; b) 90-count Unit of Use bottles (NDC 0008-0836-22) UPC 3 0008-0836-22 4; Rx only, Distributed by Wyeth Pharmaceuticals Inc., A subsidiary of Pfizer Inc., Philadelphia, PA 19101. |
| Status: | Ongoing |
| City: | New York |
| State: | NY |
| Country: | US |
| Voluntary/Mandated: | Voluntary: Firm Initiated |
| Initial Firm Notification: | Two or more of the following: Email, Fax, Letter, Press Release, Telephone, Visit |
| Distribution Pattern: | Nationwide and Puerto Rico |
| Classification: | Class I |
| Product Quantity: | 49,847 bottles |
| Reason For Recall: | Presence of Foreign Tablets/Capsules: A Pharmacist reported that a bottle of Effexor XR 150 mg capsules contained a single peach colored capsule printed TKN250 which was identified as a Tikosyn (dofetilide) capsule. |
| Recall Initiation Date: | 20140306 |
| Report Date: | 20140528 |
Effexor XR (venlafaxine hydrochloride)
Effexor® (venlafaxine hydrochloride) is an antidepressant medication classified as a serotonin-norepinephrine reuptake inhibitor (SNRI), generally prescribed to adults to treat major depression and anxiety disorders. It is an oral medication available in tablet and capsule form, originally brought to the market by American pharmaceutical manufacturer Wyeth in 1993. It is sold in strengths of 37.5mg, 75mg, 150mg, and 225mg in both original and extended-release (Effexor-XR) formulations.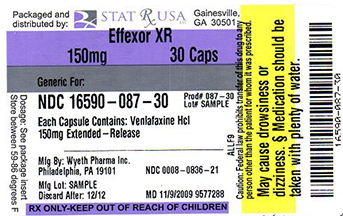 Effexor Xr Recall
March 6,2014
A voluntary recall was issued by Pfizer for multiple lots of Effexor XR, as well as one lot of generic extended release Venlafaxine, after a pharmacist reported finding a different medication, Tikosyn (used to treat heart conditions) in a bottle labeled for Effexor XR. (fda.gov)
Get an Alert if there is another recall
Questions & Answers
Side Effects & Adverse Reactions
As with all antidepressants, Effexor carries the FDA's black box warning due to an increased risk of suicidal thoughts/ideation and actions, especially in children and young adults. (.pdf)
Common side effects include headache, nausea, fatigue, asthenia (weakness), insomnia, dry mouth, dizziness, weight gain, sweating, and sexual dysfunction (difficulty achieving arousal, erection and/or orgasm). While rarer than the aforementioned side effects, it is also not uncommon for Effexor to cause high blood pressure. It can also worsen existing glaucoma, and may cause angle-closure glaucoma (a condition where the fluid is suddenly blocked and unable to flow out of the eye causing a quick, severe increase in eye pressure which may lead to a loss of vision). (dailymed.nlm.nih.gov)
Like many other antidepressant medications, the discontinuation of regular use of Effexor can cause numerous unpleasant withdrawal side effects, including flu-like symptoms (nausea, vomiting, sweating, headaches, diarrhea), sleep disturbances (insomnia, nightmares, fatigue), sensory/movement disturbances (vertigo, dizziness, "zap" like electrical sensations in the brain or nerve paths), and mood disturbances (anxiety, dysphoria, agitation). These symptoms are known to be particularly intense with the discontinuation of Effexor, possibly as a reflection of its relatively short half-life. Missing even a single dose can result in withdrawal symptoms. (ncbi.nlm.nih.gov)
Effexor is officially classified by the FDA as Category C, meaning that risk cannot be ruled out. Studies have shown that it may increase the risk of miscarriage in pregnant women. Babies born to women taking Effexor have also shown to suffer similar withdrawal symptoms as adults as the drug leaves their body after birth, as well as requiring extra neonatal hospital care including respiratory support and tubal feeding. Studies also suggest the possibility of birth defects and malformations, with further studies needed to determine specificity and prevalence. (ncbi.nlm.nih.gov)
Possible Adverse Effects/Contraindications
Effexor is not approved for use in pediatric patients. In addition to the black box warning regarding suicidal thoughts and behavior, it may cause stunted growth and weight gain in young children. (nlm.nih.gov)
Effexor is not recommended for use in treatment of depressive episodes in people with bipolar disorder, as it can induce or exacerbate mania. (ncbi.nlm.gov)
Effexor should not be used by patients with a history of high blood pressure, as it can initiate or exacerbate the condition. Regular blood pressure monitoring is strongly recommended. The same can be said of patients with a history of glaucoma, as similar pressure increases can occur in the eyes. (.pdf)
Effexor should not be taken with, or immediately after stopping use of, monoamine oxidase inhibitors (MAOIs), another class of commonly used antidepressants, as this can cause serotonin syndrome or serotonin toxicity, a condition that can be fatal. Similarly, avoidance of other substances with serotonergic properties (triptans, St. John's Wort, lithium, Tramadol, etc.) is also recommended. (.pdf)
Legal Issues
There are dozens of lawsuits pending against Pfizer (Wyeth, the original manufacturer, was acquired by Pfizer in early 2009) regarding possible detrimental effects of using Effexor, including aggressive and altered behavior while taking the medication, extreme and protracted withdrawal symptoms after discontinuing the medication, and harm to fetuses and children born to women who used Effexor while pregnant.
The large majority of these suits are due to negative pregnancy and neonatal experiences, alleging that Effexor was aggressively marketing toward pregnant women, suggesting that it was safe for use during pregnancy. In 2013, the United States Judicial Panel on Multidistrict Litigation moved to centralize the various cases into a multidistrict litigation, consolidating discovery and pre-trial efforts to avoid duplication. Bellwether case selection is in progress, with a trial date set to begin in September of 2016. (jpml.uscourts.gov)
FDA Safety Alerts
There are currently no FDA safety alerts available for this drug.
Manufacturer Warnings
October 17, 2006
A letter was sent out by Wyeth (manufacturer), a subsidiary of Pfizer, Inc., amending previous details about venlafaxine overdose symptoms and complications. (.pdf)
June 3, 2004
A letter was sent out by Wyeth, primarily providing details about the FDA's black box warning regarding antidepressants and suicidal ideation and behavior, as well as information about discontinuation syndrome (withdrawal) symptoms, neonatal issues with babies born to mothers who had been using Effexor, and other additions and amendments to the Precautions section of the label. (fda.gov)
FDA Labeling Changes
July 2014
An adjustment was made to the Precautions section of the label to provide information regarding an increase in the risk of bleeding events and disorders (hemorrhage, hematomas, petechiae, etc) in patients taking SSRIs and SNRIs. (fda.gov)
December 2012
Contraindications and warnings were added regarding the types of drugs or substances that will interact with use of Effexor/venlafaxine and possibly cause serotonin syndrome, expanding upon the warnings issued in January 2010 and January 2009. (fda.gov)
August 2012
An adjustment was made to the Precautions section of the label to provide information regarding studies of possible fertility changes while using Effexor. (fda.gov)
May 2012
An alert was issued warning that drug urinalysis screenings of people taking Effexor or venlafaxine may receive false positive results for phencyclidine (PCP) and amphetamine. (fda.gov)
January 2010
A labeling adjustment was made to provide further details regarding possible interactions between Effexor/venlafaxine and MAOIs causing serotonin syndrome/serotonin toxicity, expanding upon the warning issued in January 2009. (fda.gov)
November 2009
An adjustment was made to the Precautions section of the label to warn of the possibility of flu-like symptoms as part of withdrawal/discontinuation of Effexor. (fda.gov)
January 2009
A warning was issued regarding the risk of the potentially-fatal complication serotonin syndrome, also known as serotonin storm or serotonin toxicity, or a similar condition called neuroleptic malignant syndrome. Both of these conditions can occur when Effexor is taken in combination with MAOIs, or other drugs that alter the neurotransmission of serotonin. (fda.gov)
May 2008
Adjustments were made to the label to reflect changes in postmarketing reports and possible adverse interactions. (fda.gov)
February 2008
Precautions were added to the label making changes to the following subjects: abnormal bleeding as a potential side effect, and interactions with drugs that interfere with the clotting and flow of blood (Non-selective NSAIDs, aspirin, warfarin, etc.). (fda.gov)
January 2008
Precautions were added to the label to outline possible interactions with drugs that inhibit Cytochrome P450 Isoenzymes (proteins that cause chemical changes in the blood). (fda.gov)
Uses
Effexor is used in the treatment of major depressive disorder, generalized anxiety disorder, panic disorders, social anxiety disorder (social phobia), and other mood disorders. Common off-label uses include treatment of diabetic neuropathy (nerve pain in the extremities caused by diabetes) and hormonal hot flashes. It is thought to work by keeping both serotonin (a neurotransmitter chemical thought to be responsible for happiness and well-being) and norepinephrine (a catecholamine – a combination of a neurotransmitter and a hormone – that directly affects adrenal function and stress levels) levels up in the body by inhibiting them from being reabsorbed and broken down. (ncbi.nlm.nih.gov)
History
There is currently no drug history available for this drug.
Other Information
As an SNRI, Effexor is thought to work by inhibiting the passage of serotonin and norepinephrine between two nerve cells, allowing for these chemicals to stay in the synapse (gap) between the cells, thereby increasing their availability to bind with the proteins in the receiving cell. Changing the balance of these neurotransmitters is believed to positively affect mood and help manage depression.
Other Resources
http://dailymed.nlm.nih.gov/dailymed/drugInfo.cfm?setid=b23637e5-d37f-41b5-ba76-fc053e903bc2 https://www.ncbi.nlm.nih.gov/pubmed/12892015 http://www.accessdata.fda.gov/drugsatfda_docs/label/2014/022104s010lbl.pdf
Sources
Effexor Xr Manufacturers
---
Stat Rx Usa

Lake Erie Medical Dba Quality Care Products Llc

Lake Erie Medical Dba Quality Care Products Llc

Physicians Total Care, Inc.

Pd-rx Pharmaceuticals, Inc.

Bryant Ranch Prepack

Cardinal Health

Wyeth Pharmaceuticals Inc., A Subsidiary Of Pfizer Inc.
---
Login To Your Free Account