Januvia (sitagliptin)
Januvia® is a prescription drug used to help control high blood sugar in patients with Type 2 Diabetes. It is an oral medication in the DPP-4 inhibitor class available in 25mg, 50mg, and 100mg tablets. There is currently no therapeutic generic available in the United States.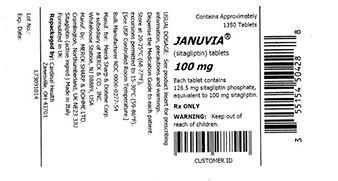 Januvia Recall
Get an alert when a recall is issued.
Questions & Answers
Side Effects & Adverse Reactions
Warnings and Precautions
The warnings issued by Merck & Co. (.pdf) about Januvia include information about post-marketing reports of acute pancreatitis, acute renal failure, and an increased risk of hypoglycemia, as well as serious allergic reactions in some patients. Severe and disabling arthralgia (joint pain) is also reported as a side effect for some patients taking Januvia. The warning section states: "There have been postmarketing reports of acute pancreatitis, including fatal and non-fatal hemorrhagic or necrotizing pancreatitis, in patients taking Januvia."
Serious Side Effects
In 2013, the Food and Drug Administration (FDA) issued a Safety Communication. The agency said it was investigating reports of the possibility of an increased risk of pancreatitis, as well as pre-cancerous findings, in patients prescribed Januvia. An earlier warning had been issued to healthcare professionals in 2009 about patients suffering acute pancreatitis. "Eighty-eight post-marketing cases of acute pancreatitis, including two cases of hemorrhagic or necrotizing pancreatitis in patients using sitagliptin, were reported to the Agency between October 16, 2006 and February 9, 2009, that earlier warning states.
Acute Pancreatitis and Pancreatic Cancer Symptoms
When the pancreas becomes inflamed, the body's digestive enzymes begin attacking that gland. That can result in tissue damage, infections, or cysts and bleeding, which can potentially spread to other organs in the body. The symptoms associated with pancreatitis, as reported by the Mayo Clinic, include upper abdominal pain, pain while eating or bending forward, nausea, vomiting, fever, rapid heartbeat, and tenderness when the abdomen is touched
(mayoclinic.org)
. Other symptoms may be unexplained weight loss, or stool that are oily or exceptionally malodorous. Medical help should be sought immediately by any person taking Januvia who is experiencing any of these symptoms.
Pancreatic cancer symptoms include a yellowing of skin and whites of the eyes, appetite loss, weight loss, depression, and blood clots. Pancreatitis is known to be a precursor to pancreatic cancer.
History of Adverse Reactions to Januvia
In 2011, a study by researchers from UCLA on the use of incretin diabetes treatment suggested patients faced an increased risk for developing pancreatitis when measured against other existing type 2 diabetes therapies (gastrojournal.com). The researchers studied the adverse events reported to the FDA over a five-year period and concluded that the potential long-term actions of these drugs could lead to more patients developing pancreatic cancer.
An abstract from that study reports: "These data are consistent with case reports and animal studies indicating an increased risk for pancreatitis with glucagon-like peptide-1−based therapy. The findings also raise caution about the potential long-term actions of these drugs to promote pancreatic cancer." The risk of developing acute pancreatitis or pancreatic cancer was found to be even greater when two drugs are taken together by the patient —Sitagliptin (Januvia) and Exanatide, an injected diabetes drug marketed as Byetta by AstroZeneca.
Legal Issues
Lawsuits have been filed against the makers of Januvia, based upon the allegation that the manufacturer failed to adequately warn about the increased risks of pancreatitis and pancreatic cancer. The U.S. District Court for the Southern District of California has consolidated lawsuits in that state due to the sheer volume of pending cases filed in lower courts (casd.uscourts.gov).
A November 12, 2013 order stated: "In order to eliminate any delay associated with the transfer of cases to this Court (of cases filed in or removed to other federal district courts), and to promote judicial efficiency, any plaintiff who alleges that Byetta, Janumet, Januvia and/or Victoza ("Incretin-based Therapies") was the cause of pancreatic cancer, and whose case would be subject to transfer to this MDL [Multidistrict Litigation], the "MDL Proceedings") may file his or her case directly in the MDL."
If you or a loved one was prescribed Januvia or Byetta, or a combination of the two medications, and then developed either pancreatitis or pancreatic cancer, it is critical that you seek legal help. Some of the other diabetes drugs in this specific class of medications, called incretin memetics, include Bydureon, Onglyza, Victoza, Tradjenta, Nesina, and Janumet.
FDA Safety Alerts
On March 14, 2013, the FDA announced they were evaluating studies suggesting an increased risk of pancreatitis and pre-cancerous cells in the pancreas of patients taking Type 2 Diabetes drugs in the incretin mimetic class. The suspect pharmaceuticals included Januvia as well as Janumet, Janumet XR, Juvisyn, Byetta, Bydureon, liraglutide (Victoza), saxagliptin (Onglyza, Kombiglyze XR), alogliptin (Nesina, Kazano, Oseni), and linagliptin (Tradjenta, Jentadueto). The warning was only intended to notify healthcare professionals and the public that FDA would be looking more closely at the findings and patients were encouraged to continue use of their medications until otherwise instructed by their doctors (fda.gov).
On August 28, 2015, a FDA Safety Announcement warned the the Type 2 Diabetes medicines sitagliptin, saxagliptin, linagliptin, and alogliptin could cause crippling joint pain. People taking any of these drugs, including Januvia, were instructed to continue use but contact their physician immediately if experiencing any symptoms (fda.gov).
Manufacturer Warnings
While no known Warnings have been issued by Merck & Co., the manufacturer's circular provided with the drug lists several Warnings and Precautions, including arthralgia (severe joint pain), hypoglycemia, and others noted by FDA (merck.com).
FDA Labeling Changes
http://www.fda.gov/safety/medwatch/safetyinformation/ucm196611.htm
August 2015
In the wake of a new Safety Alert, the FDA issued label changes to include warnings of severe and disabling joint pains in some patients.
April 2015
Pruritus (severe itching of the skin) was added as a known Adverse Reaction
March 2012
Angiodema was included as a Hypersensitivity Reaction of Januvia. The FDA noted that the reaction has been noted with other DPP-4 inhibitor class drugs (such as Onglyza, Janumet, etc.).
September 2010
Label changes for sitagliptin drugs, including Janumet (sitagliptin and metformin HCL) were announced adding constipation, vomiting, and headaches to the list of Adverse Reactions.
December 2009
A Warnings and Precautions was added, noting reports of cutaneous vasculitis and accute pancreatitis - including fatal and non-fatal hemmorhagic and necrotizing pancreatitis - in patients taking Januvia. Patient Counseling Information was also added to labeling, alerting patients to reports of accute pancreatitis with the drug and instructions to discontinue use and contact their physician if severe abdominal pains occur.
Uses
...
History
There is currently no drug history available for this drug.
Other Information
General Information
Januvia® is a new generation of oral medications known as "incretin therapies" for use in the treatment of type 2 diabetes. Incretins are hormones that stimulate decreased blood glucose, increasing the level of insulin that is released by the pancreas. Januvia is a brand name of the drug Sitagliptin, manufactured by Merck & Co. The company also produces a variation of the medication, marketed as Junumet. Januvia was approved by the FDA in 2006, and is now one of the most frequently prescribed type 2 diabetes treatment drugs on the market, with millions of prescriptions written every year.
How Januvia Works. Who Can Take It?
Januvia has been found to be effective in controlling the level of blood sugar in patients and decreasing sugars naturally released into the blood system by the liver. In essence, the patient has too much glucose in the blood, and the drug stimulates certain pancreatic cells to release insulin. The drug allows the incretins to remain in the blood longer and to help the pancreas to continue to produce insulin, removing the excess sugar.
The drug is only for use in certain patients and cannot be prescribed to patients who have diabetic ketoacidosis, a condition in which the patient presents with excess ketones (a result of prolonged blood sugar in the blood and insulin deficiency) in his or her urine.
Sources
Januvia Manufacturers
---
Cardinal Health

Physicians Total Care, Inc.

Lake Erie Medical & Surgical Supply Dba Quality Care Products Llc

Cardinal Health

Clinical Solutions Wholesale

Merck Sharp & Dohme Corp.

Remedyrepack Inc.

Cardinal Health

Cardinal Health
---
Login To Your Free Account