Zoloft (sertraline hydrochloride)
Zoloft® is an antidepressant medication classified as a selective serotonin reuptake inhibitor (SSRI), generally prescribed to adults to treat major depression and anxiety disorders and, less commonly, for vascular headaches and premature ejaculation. It is an oral medication originally brought to the market by American pharmaceutical manufacturer Pfizer and is available in 25mg, 50mg, and 100mg capsules.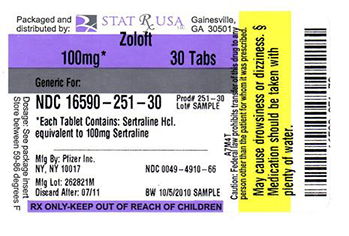 Zoloft Recall
Get an alert when a recall is issued.
Questions & Answers
Question
Zoloft makes me more moody and more depressed. I didn't take it for long.
Side Effects & Adverse Reactions
Common side effects include fatigue, insomnia, nausea, dry mouth, headache, diarrhea, dizziness, weight gain, and sexual dysfunction (difficulty achieving arousal, erection and/or orgasm).
As with all antidepressants, Zoloft carries the FDA's black box warning due to an increased risk of suicidal thoughts/ideation and actions, especially in children and young adults. (fda.gov)
The use of Zoloft during the first trimester of pregnancy is associated with increased risks of the following birth defects: omphalocele (abdominal wall defects), anal atresia (malformation of the anus/rectum), limb reduction, and septal (heart) defects.(ncbi.nlm.nih.gov)
Like many other antidepressant medications, the discontinuation of regular use of Zoloft can cause numerous unpleasant withdrawal side effects, including flu-like symptoms (nausea, vomiting, sweating, headaches, diarrhea), sleep disturbances (insomnia, nightmares, fatigue), sensory/movement disturbances (vertigo, dizziness, "zap" like electrical sensations in the brain or nerve paths), and mood disturbances (anxiety, dysphoria, agitation). Most cases of these withdrawal symptoms are mild and resolve themselves after 1-4 weeks.
Possible Adverse Interactions
Zoloft should not be taken with, or immediately after stopping use of, monoamine oxidase inhibitors (MAOIs), another class of commonly used antidepressants, as this can cause serotonin syndrome or serotonin toxicity, a condition that can be fatal.
It is also contraindicated for use with the antipsychotic medication pimozide (Orap) due to the risk of serious heart problems. The concentrated form also contains an alcohol solution, so it is recommended not to take it with Antabuse, a medication used to treat alcoholism. Grapefruit and grapefruit juice should also be avoided, as it can increase the levels of Zoloft in the body.
Legal Issues
Pfizer has over 1,000 lawsuits pending against them regarding the use of Zoloft causing birth defects in pregnancy. In June 2015, a jury in Philadelphia, PA sided with the defendant (Pfizer) in a case wherein the plaintiffs alleged that Pfizer did not sufficiently warn patients of the potential for birth defects, finding that the drug's label adequately warned physicians to weigh and discuss the benefits and risks of use before prescribing it (Robinson v. Wolters Kluwer Health Inc. and Pfizer, Inc.). This is the second such judgment in favor of Pfizer regarding birth defects and use of Zoloft in as many trials. (bloomberg.com)
Zoloft was also the subject of a consumer fraud class action lawsuit that was filed in 2013 in California. The case, Plumlee vs. Pfizer Inc., centered on claims by plaintiff Laura Plumlee that she had taken the drug as prescribed for 3 years with absolutely no effect. The suit alleged that Pfizer deliberately omitted from labeling that there had been studies conducted that found Zoloft to be no more effective than a placebo, and that their marketing and advertising regarding its effectiveness was misleading. The plaintiff's first claim was dismissed in March 2014, not due to the argument of effectiveness or lack thereof, but due to time-barring. Plumlee had last used Zoloft in 2008, but did not file the lawsuit until 2013. She was given the opportunity to amend her claim and re-file, but the suit was ultimately dismissed with prejudice in September 2014.
FDA Safety Alerts
July, 2006
Food and Drug Administration Labeling Changes indicate several changes but this specific Alert was issued warning of increased risk of Neonatal Persistent Pulmonary Hypertension in mothers taking the drug (fda.gov).
December 14, 2011
The FDA warns of pregnancy risks in SSRI's in general, including Zoloft. (fda.gov).
July 26, 2011
FDA warns of serious CNS reactions in patients taking the antibiotic linezolid (Zyvox) and certain psychiatric serotonin drugs, including Zoloft. (fda.gov)
Manufacturer Warnings
An undated warning letter from Pfizer alerts healthcare providers to the warnings and label changes regarding detrimental interactions of Zoloft with pimozide (Orap) and MAOIs (fda.gov).
FDA Labeling Changes
September 2014
A labeling adjustment was made to the drug interactions to remove previous additions of QT prolongation, Torsades de Pointes, and ventricular tachycardia – all types of cardiac arrhythmia (irregular heart rhythm) (fda.gov).
February 2013
Diabetes mellitus (scientific name for both Type 1 and Type 2 diabetes) was added to the list of events observed during the post-marketing evaluation of Zoloft. (fda.gov)
December 2012
Contraindications and warnings were added regarding the types of drugs or substances that will interact with use of Zoloft and possibly cause serotonin syndrome, expanding upon the warnings issued in January 2009 (fda.gov).
August 2011
Information was added to the packaging label to advise caution when co-administering Zoloft with drugs that may enhance serotonergic neurotransmission (transmission/absorption of serotonin) due to possibility for interaction. In addition, a precaution was added regarding laboratory testing: patients using Zoloft were reported to have received false positives on urine immunoassay screening tests for benzodiazepines(a class of frequently abused anti-anxiety medications) such as clonazepam (fda.gov).
January 2009
A warning was issued regarding the potential for the potentially fatal complication serotonin syndrome, also known as serotonin storm or serotonin toxicity, or a similar condition called neuroleptic malignant syndrome. Both of these conditions can occur when Zoloft is taken in combination with MAOIs (such as selegiline or phenelzine), or other drugs that alter the neurotransmission of serotonin (fda.gov).
March 2008
Precautions were added to the label making changes to the following subjects: abnormal bleeding as a potential side effect, and interactions with drugs that interfere with the clotting and flow of blood (Non-selective NSAIDs, aspirin, warfarin, etc.) (fda.gov).
Uses
Zoloft® is an antidepressant medication classified as a selective serotonin reuptake inhibitor (SSRI), generally prescribed to adults to treat major depression and anxiety disorders and, less commonly, for vascular headaches and premature ejaculation. It is an oral medication originally brought to the market by American pharmaceutical manufacturer Pfizer and is available in 25mg, 50mg, and 100mg capsules.
History
Sertraline was the result of many levels of experimentation by Pfizer chemists, beginning in the early 1970's with the invention of multiple psychoactive compounds that were based on the structures of some of the earliest available antipsychotic medications. These experiments would eventually result in the development of many neurotransmitter reuptake inhibitors, the most potent and selective of which would go on to be tested in vivo (on living organisms, including human trials) and dubbed sertraline. None of the scientists responsible for its creation were anticipating the production of an SSRI type of antidepressant, so the discovery is considered a happy accident.
Zoloft was approved by the FDA on the recommendation of the Psychopharmacological Drugs Advisory Committee in 1991. It was also made available in the United Kingdom the previous year, and in Australia in 1994. It was only approved for prescription to adults over the age of 18 until 2002, when the FDA approved its use in children over age 6 to treat severe cases of obsessive-compulsive disorder. In 2005, the FDA issued a black box warning for all antidepressants, including sertraline, concerning suicidal thoughts and behaviors in children; this warning was amended in 2007 to include the possibility of suicidal tendencies in young adults aged 18 to 24.
The patent for Zoloft expired in the US in 2006, allowing for the availability of sertraline in its generic form. Other brand names for sertraline include Lustral and Asentra. In 2013, it was the most prescribed antidepressant and second-most prescribed psychiatric medication in the United States. (psychentral.com)
Other Information
How It Works
As an SSRI, Zoloft is thought to work by inhibiting the passage of serotonin between two nerve cells, allowing for the serotonin to stay in the synapse (gap) between the cells, thereby increasing its availability to bind with the proteins in the receiving cell. This increase in available serotonin is believed to positively affect mood and manage depression.
Sources
Zoloft Manufacturers
---
Stat Rx Usa Llc

Pd-rx Pharmaceuticals, Inc.

Lake Erie Medical & Surgical Supply Dba Quality Care Products Llc

Cardinal Health

Remedyrepack Inc.

Aphena Pharma Solutions – Tennessee, Llc

Roerig
---
Login To Your Free Account