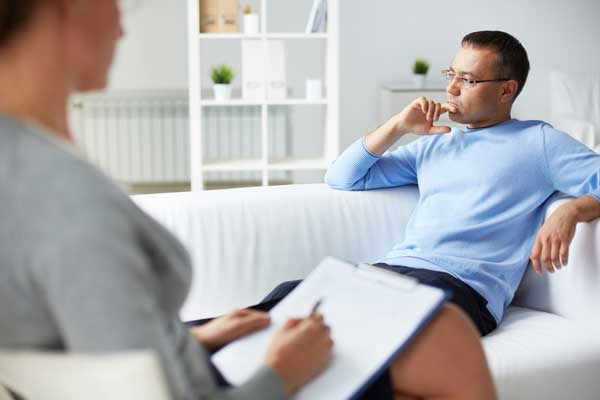 What is Depression?
Depression is a mental health disorder characterized by extreme feelings of sadness and loss of interest that interfere with a person's ability to function in daily activities. People who are depressed often have insomnia, loss of appetite, and anxiety, and may or may not be able to maintain employment or care for themselves and their family. Individuals can become depressed for many reasons. Some people experience "situational depression", depression caused by a specific experience (such as a death of a loved one or loss of employment). Unfortunately, some people experience chronic depression that persists throughout their life. Even when treated, depression can return, along with a relapse in symptoms.
You may have major depressive disorder if you are experiencing a loss of pleasure or interest in normal activities or things that were once found to be pleasurable, if you have a depressed mood, or both. To meet this diagnosis, you must have at least 5 symptoms, for at least 2 weeks, for most of the day, nearly every day (these symptoms cannot be caused by drug intoxication or medical issues, like a thyroid disorder):
Feelings of sadness or emptiness that may be noticeable to yourself or others (children may display depression as irritability)
A loss of interest in activities that you once enjoyed, such as painting, gardening, or exercising
Feelings of guilt or worthlessness
Unexplained changes in weight (loss or gain) or appetite (increase or decrease)
Insomnia or hypersomnia (sleeping too little or too much)
Loss of energy
Physical movements or speech that is sluggish or slow, and is observable by others (also called psychomotor agitation or retardation)
Difficulty thinking, concentrating, and making decisions
Thoughts of death and/or suicide, suicidal attempts, or self-harm (such as mutilation or wrist cutting)
Depending on whom you ask, different types of medical professionals will recommend different treatments for depression. Two common forms of treatment that are very different in nature are cognitive behavioral therapy (CBT), a type of psychotherapy, and selective serotonin reuptake inhibitors (SSRI's). SSRI's are the most commonly prescribed medications for moderate to severe depression. Prozac (Fluoxetine), Lexapro (Escitalopram), Zoloft (Sertraline), Celexa (Citalopram), and Paxil and Pexeva (Paroxetine) are examples of some of the most popular SSRI's in the United States (source).
It is important to understand that if your symptoms do not cause distress or impairment at work, in social situations, or affect the way you function in other important ways, you are not clinically depressed and most likely do not need SSRI's or other medications. However, CBT is beneficial for individuals that may not meet diagnostic criteria, but would like to improve their mental health or prevent worsening of their condition.
Selective Serotonin Reuptake Inhibitors (SSRI's) for Depression
Selective serotonin reuptake inhibitors are medications that are believed to work by influencing the neurotransmitter serotonin, a chemical in the brain that is believed to affect depression, mood, sleep, and appetite. Unfortunately, SSRI's do not treat the source of depression; they address the symptoms, and only when you take them. Plus, medications can lead to serious side effects, like seizures, bone fractures, and kidney and liver issues.
SSRI's are no more, or in some cases, less effective than cognitive behavioral therapy (source), which does not produce negative side effects and is therefore a safe alternative to medication (source). SSRI's can also be addictive, and those who take SSRI's are at risk of experiencing serious withdrawal symptoms if they stop taking their medication. SSRI discontinuation syndrome can include nausea, vomiting, anxiety, hyperarousal, and insomnia. People prescribed SSRI's should never stop taking their medication suddenly, and shouldn't discontinue use without supervision from their doctor (source).
Cognitive Behavioral Therapy (CBT)
Often, individuals become depressed because they have negative beliefs about themselves or the world around them (these are referred to as "cognitive distortions" in CBT). They may think that they are ugly, or that the world is too dangerous for them to leave their home. Often these distortions are in response to a trauma, such as emotional or sexual abuse, or an individual event. Cognitive behavioral therapy aims to confront these faulty beliefs and to correct them so that the individual can view things in a way that is more conducive to their survival. It helps the brain to make permanent, structural changes that in turn, will result in reactions and behaviors that are more productive. If a person can find a healthier way to cope with, let's say, the loss of a loved one, they will be less likely to relapse into a state of depression the next time they are faced with a stressful situation.
Cognitive behavioral therapy is useful in treating a variety of issues, including marital problems, depression, anxiety, and low self-esteem. CBT can help individuals to function better 80-90% of the time, and is better than SSRI's at preventing relapse (source). Also, because CBT typically lasts for between 12 and 15 sessions, it may be more affordable than paying for a lifetime supply of antidepressants. Another benefit of CBT is that it treats both depression and anxiety, two disorders that commonly occur together. Cognitive behavioral therapy may take a few weeks longer to reach a desired effect, but these changes will be long lasting. After 12 weeks, treatment is usually complete.
Trained mental health professionals, including social workers, mental health counselors, and psychologists administer CBT. Psychiatrists are medical doctors who can prescribe psychiatric medications, but some also offer therapy sessions that may or may not include treatment with cognitive behavioral therapy.
Often times, a trained cognitive behavioral therapist will assign "homework" to their client. CBT homework may include recording one's thoughts in a diary, gradually exposing oneself to an undesirable situation to become more used to it, and thought stopping, or literally, stopping your negative thoughts in their tracks and redirecting your brain to think of something more desirable.
The Safer Alternative
SSRI's and CBT can both be effective forms of treatment, however, patients taking SSRI's are at risk for developing serious health complications, including liver problems and seizures. Cognitive behavioral therapy is a lot safer, as it does not carry these risks and is more effective at preventing relapse. In some situations, individuals with certain disorders may benefit from participating in cognitive behavioral therapy while taking selective serotonin reuptake inhibitors (like those with severe forms of obsessive-compulsiveness disorder, also called OCD). For many patients, SSRI's work better as an adjunct to therapy than they do alone (source).
Other ways to combat depression include exercising regularly, eating well, and getting enough sleep. The body and mind are strongly connected, so staying healthy is important. Not getting enough sleep and not eating well can cause your body to go into survival mode. When your body is in survival mode, you can gain weight, become more irritable, experience widespread pain, and have other side effects that can cause and contribute to depression. Having an outlet that enables you to express yourself creatively can also be helpful. Sometimes people are unable to express their feelings with words, so other forms of communication, like writing in a journal, singing, or painting can be therapeutic and help to relieve stress. Individuals who have, or are at risk for mental health issues should try to make sure they have supportive people in their lives, such as friends, family, teachers, religious advisors, and mental health professionals. Talking about your issues with another person can provide some relief and help to prevent a depressive episode. Depression is not always a permanent condition, but may be for some. It is important to rule out any medical issues, like hormonal disorders or brain injuries, that may be causing or contributing to the condition.