Cymbalta (duloxetine)
Cymbalta® is an antidepressant medication classified as a serotonin-norepinephrine reuptake inhibitor (SNRI), generally prescribed to adults to treat major depression and anxiety disorders, fibromyalgia and neuropathic pain. Originally brought to the market by American pharmaceutical manufacturer Eli Lilly in 2004, it is available by prescription in 20mg, 30mg, and 60mg (delayed-release formulation) capsules. A generic version has also been sold in the United States since 2013.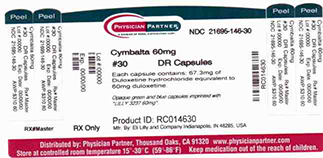 Are you a medical professional?
Cymbalta Recall
April 2014
Teva Pharmaceutical Industries issued a recall of 19 lots of generic duloxetine due to reports of capsule breakage. (fda.gov)
Get an Alert if there is another Cymbalta recall
Questions & Answers
Question
Blair Pearl
DO NOT TAKE CYMBALTA! My doctor put me on this medication when I was experiencing major depression and anxiety, and needed to get through graduate school. I gained 30 pounds in less than 30 days! My doctor took me off it immediately, and I now have thyroid issues and cannot lose the weight naturally. Talk about being depressed!
Side Effects & Adverse Reactions
As with all antidepressants, Cymbalta carries the FDA's black box warning due to an increased risk of suicidal thoughts/ideation and actions, especially in children and young adults. (fda.gov)
Common side effects include headache, nausea, fatigue, asthenia (weakness), insomnia, dry mouth, dizziness, weight gain, sweating, and sexual dysfunction (difficulty achieving arousal, erection and/or orgasm). While less common than the aforementioned side effects, it is also not uncommon for Cymbalta to cause high blood pressure, abnormal bleeding, and syncope (fainting). It can also worsen existing glaucoma, and may cause angle-closure glaucoma (a condition where the fluid is suddenly blocked and unable to flow out of the eye causing a quick, severe increase in eye pressure which may lead to a loss of vision). Urinary retention and dysfunction have also been reported. (dailymed.nlm.nih.gov)
Like many other antidepressant medications, the discontinuation of regular use of Cymbalta can cause numerous unpleasant withdrawal side effects, including flu-like symptoms (nausea, vomiting, sweating, headaches, diarrhea), sleep disturbances (insomnia, nightmares, fatigue), sensory/movement disturbances (vertigo, dizziness, "zap" like electrical sensations in the brain or nerve paths), and mood disturbances (anxiety, dysphoria, agitation). (ncbi.nlm.nih.gov)
Cymbalta is officially classified by the FDA as Category C, meaning that risk cannot be ruled out. Babies born to women taking Cymbalta during pregnancy have often shown to suffer similar withdrawal symptoms as adults as the drug leaves their body after birth, as well as requiring extra neonatal hospital care including respiratory support and tubal feeding. There is an active registry for women who take Cymbalta while pregnant, to monitor outcomes and gather data - http://cymbaltapregnancyregistry.com.
Cymbalta is not recommended for use in treatment of depressive episodes in people with bipolar disorder, as it can induce or exacerbate mania. It should also not be used by patients with a history of high blood pressure, as it can initiate or exacerbate the condition. Regular blood pressure monitoring is strongly recommended. The same can be said of patients with a history of glaucoma, as similar pressure increases can occur in the eyes. (.pdf)
Hepatic (liver) disease and failure have been reported in some patients treated with Cymbalta, and so use should be discontinued if jaundice develops or other symptoms of clinical liver dysfunction. Patients with a history of alcohol abuse or liver disease should not be prescribed duloxetine.
Cymbalta should not be taken with, or immediately after stopping use of, monoamine oxidase inhibitors (MAOIs), another class of commonly used antidepressants, as this can cause serotonin syndrome or serotonin toxicity, a condition that can be fatal. It is also recommended that people taking this medication should avoid other substances with serotonergic properties such as triptans, St. John's Wort, lithium, tramadol, etc.).
Legal Issues
In January of 2013, a class action lawsuit was filed against Eli Lilly in the Central District of California, alleging that the labeling literature for Cymbalta failed to warn medical professionals and patients of the frequency, severity, and/or duration of withdrawal symptoms from discontinuation of use. While Eli Lilly states that withdrawal symptom risk is approximately 1%, there are studies that found that the risk was actually much higher, between 44-51% of cases. (fda.gov)
By 2015, the number of plaintiffs was roughly 250; however, in August 2015, two verdicts were returned in Eli Lilly's favor. More cases are pending, and the two women whose trials were lost plan to appeal to the Ninth Circuit. (.pdf)
FDA Safety Alerts
There are currently no FDA safety alerts available for this drug.
Manufacturer Warnings
October 5, 2005
Cymbalta manufacturer Eli Lilly issued a letter to healthcare providers to directly inform them about the risks of hepatotoxicity (liver damage and disease) while using Cymbalta. (fda.gov)
FDA Labeling Changes
June 2015
Labeling changes were made to the list of postmarketing reports, adding observations of colitis and cutaneous vasculitis. A statement was also added regarding pediatric use, stating that not enough information was available to establish efficacy. (fda.gov)
November 2012
Additions were made to the Warnings and Precautions part of the label, outlining the risk of Orthostatic Hypotension (low blood pressure after rising from sitting or lying down), and subsequently syncope (fainting) and falls. (fda.gov)
October 2014
The statement "Cymbalta is not approved for use in pediatric patients" was removed from the black box warning. (fda.gov)
October 2012
Contraindications and warnings were added regarding the types of drugs or substances that will interact with use of Zoloft and possibly cause serotonin syndrome, expanding upon the warnings issued in January 2009. A note was also added regarding discontinuation (withdrawal) symptoms. (fda.gov)
August 2012
Additions were made to the label, including the Adverse Reactions (electrocardiogram or EKG changes), Use in Specific Populations (notes about diminished appetite and weight loss in pediatric use of Cymbalta), and Patient Counseling Information (notes on hepatotoxicity – liver damage, withdrawal symptoms, mania activation in bipolar individuals, seizures, etc.). (fda.gov)
September 2011
A labeling change was made to the Warnings and Precautions, adding information about rare occurrences of severe skin reactions, advising patients to cease use of Cymbalta if they develop blisters, peeling, or rash. (fda.gov)
April 2011
Labeling changes were made in order to add several adverse effects to the postmarketing observations, and to provide information about the pregnancy registry
(cymbaltapregnancyregistry.com)
, intended to monitor possible adverse effects experienced by women who used Cymbalta while pregnant.
(fda.gov)
March 2009
A number of changes were made to the label, including additions to the Warning and Precautions regarding discontinuation/withdrawal symptoms, and several additions to the postmarketing observations under Adverse Reactions. (fda.gov)
January 2009
The Contraindications and Warnings section of Cymbalta delayed-release capsules (20mg, 30mg, and 60mg) labels was modified to include a "Warnings and Precaution" for Serotonin Syndrome or Neuroleptic Malignant Syndrome (NMS)-like Reactions. (fda.gov)
June 2008
Labeling modifications were made to the Warnings and Precautions (hepatotoxicity information), Adverse Reactions (fibromyalgia, placebo-controlled clinical trial information), and Uses in Specific Populations (geriatric). (fda.gov)
Uses
Cymbalta is used in the treatment of major depressive disorder and generalized anxiety disorder. It is also used for the pain and tingling of conditions such as diabetic neuropathy, chemotherapy-induced neuropathy, and fibromyalgia. It has also been found to provide relief of urinary incontinence. It is thought to work by keeping both serotonin (a neurotransmitter chemical thought to be responsible for happiness and well-being) and norepinephrine (a catecholamine – a combination of a neurotransmitter and a hormone – that directly affects adrenal function and stress levels) levels up in the body by inhibiting them from being reabsorbed and broken down. (ncbi.nlm.nih.gov)
Cymbalta was not initially approved for use in children and young adults. That was changed in October 2012 after studies revealed efficacy for younger age groups when treated with Cymbalta for anxiety disorders; however, no benefit was shown in treatment of depression. (fda.gov) / (.pdf)
History
Duloxetine was created by Eli Lilly researchers David Robertson, David Wong (a co-creator of fluoxetine, a.k.a. Prozac) and Joseph Krushinski, according to the patent application that was filed in 1986 and subsequently granted in 1988. After further development, the resulting molecule was named the name duloxetine.
Eli Lilly filed a New Drug Application with the FDA in 2001, ultimately to be approved in 2004 for treatment of depression and diabetic neuropathy, in 2007 for neuropathic pain and generalized anxiety disorder, in 2008 for management of fibromyalgia, and in 2010 for chronic musculoskeletal pain. (.pdf)
Other Information
How it Works
As an SNRI, Cymbalta is thought to work by inhibiting the passage of serotonin and norepinephrine between two nerve cells, allowing for these chemicals to stay in the synapse (gap) between the cells, thereby increasing their availability to bind with the proteins in the receiving cell. Changing the balance of these neurotransmitters is believed to positively affect mood and help manage depression.
Cymbalta® (duloxetine hydrochloride) is a selective serotonin and norepinephrine reuptake inhibitor (SSNRI) for oral administration. Its chemical designation is (+)-(S)-N-methyl-γ-(1-naphthyloxy)-2-thiophenepropylamine hydrochloride. The empirical formula is C18H19NOS•HCl, which corresponds to a molecular weight of 333.88. The structural formula is:
Duloxetine hydrochloride is a white to slightly brownish white solid, which is slightly soluble in water.
Each capsule contains enteric-coated pellets of 22.4, 33.7, or 67.3 mg of duloxetine hydrochloride equivalent to 20, 30, or 60 mg of duloxetine, respectively. These enteric-coated pellets are designed to prevent degradation of the drug in the acidic environment of the stomach. Inactive ingredients include FD&C Blue No. 2, gelatin, hypromellose, hydroxypropyl methylcellulose acetate succinate, sodium lauryl sulfate, sucrose, sugar spheres, talc, titanium dioxide, and triethyl citrate. The 20 and 60 mg capsules also contain iron oxide yellow.
Cymbalta Generic?
A generic version of duloxetine delayed-release capsuled was approved by FDA in 2013. (fda.gov)
Sources